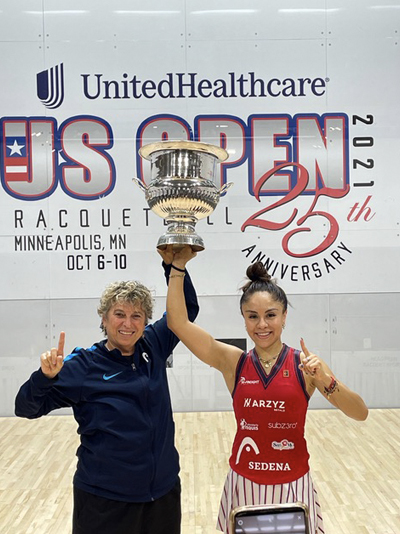 FROM INDOOR RACQUETBALL TO OUTDOOR RACQUETBALL, ALL IN A SPAN OF TWO WEEKS!
What a world-wind tour it has been for Coach Fran Davis as her players, Paola Longoria, Rocky Carson and Team Zurek (Erick Trujillo, JP Rodriquez, Francisco Fajardo, Ponsi, Eduardo Garay, Mica Meneses, Sebastian Franco and Eduardo Castaneda) all played in either the US OPEN and in the 3WallBall event, two of the biggest stages in racquetball and the results were astounding! Also her partner, Jason Mannino, was inducted into the 2020 Hall of Fame as one of the best players to ever play the game.
---
PAOLA LONGORIA WINS US OPEN
Coach Fran Davis has coached Paola Longoria to victory at all 10 US Open titles from 2011-2021, all 3 Pan American Games-9 Gold Medals , all 3 Central American Games-9 Gold Medals, and all 3 of the World Championships 3-Gold Medals, and 11 years on the Ladies Professional Racquetball Tour finishing #1. This is a relationship that has grown over the last 12 years of coaching since 2009.
Quick links: Paola Longoria (Wikipedia)
---
ROCKY CARSON
Coach Fran Davis has coached Rocky Carson at 11 US OPEN Racquetball Championships from 2010-2021, 2 Pan American Games Gold Medals, 4 World Championships, and being #2 IRT Pro for over 10 plus years. As well Rocky's Outdoor records speaks for itself also. The respect they have for one another has developed over the 12 years of coaching since 2010 and continues as Rocky plays indoor and outdoor racquetball.
Quick links: Rocky Carson Bio
---
COACHING TEAM ZUREK
Coaching Team Zurek since January 2021 is a relationship that began 10 months ago and they are family already. Coach Fran Davis cannot say enough about all the members of Team Zurek as they are packed with talent and all bring a certain element of Team Spirit to the group. It's been a great experience watching every one of the team members improve their games in just a few months of working with Coach Fran Davis. She too brings so much knowledge, experience and a sense of awareness to the Team that has not been there before. A powerful relationship that is being created each and every day.
Quick links: Chicago IRT Results – US OPEN Results
---
JASON MANNINO
Coach Fran Davis's first professional racquetball player she coached was recently inducted into the USA Racquetball Hall of Fame, the Class of 2020. Not only did Coach Fran Davis coach Jason for over 10 years, they wrote a book together, "Championship Racquetball", developed an Instructional DVD together, "Building Your Racquetball Dream House". They have conducted hundreds of racquetball camps and clinics all over the country.
Quick links: USAR Hall of Fame – Camps with Coach Fran
---
RACQUETBALL FAMILY ALBUM
I had such great time seeing all of my racquetball family and friends. I wanted to share as many photos as I could and have many more in a photo gallery.
---
VIRTUAL COACHING NOW ON SALE – 15% ENTER PROMO CODE FRAN15
Your personal video analysis will be jammed packed with information and have the voice over, the mark ups pointing certain things out, with a complete overview, like the sample video below. Included would be a follow up video on how to correct it. The type of video you send in could be a rally, a particular shot you need me to look at, your court position or shot selection or serves, or return of serves, etc…ANYTHING you need to improve upon and do not know what is wrong and how to fix it. We can do a full rally or a split screen side by side comparison…depending on what you need help with.Video is the best teaching tool and I use it for all my students, including Paola Longoria and Rocky. Carson. Click the image to watch the video. Check out all our online virtual coaching packages as well as our our one-time video analysis. Learn more by clicking any of the package options. This is a limited time offer so get yours today.
RETURN OF A LOB SERVE: OFFENSE OR DEFENSE
---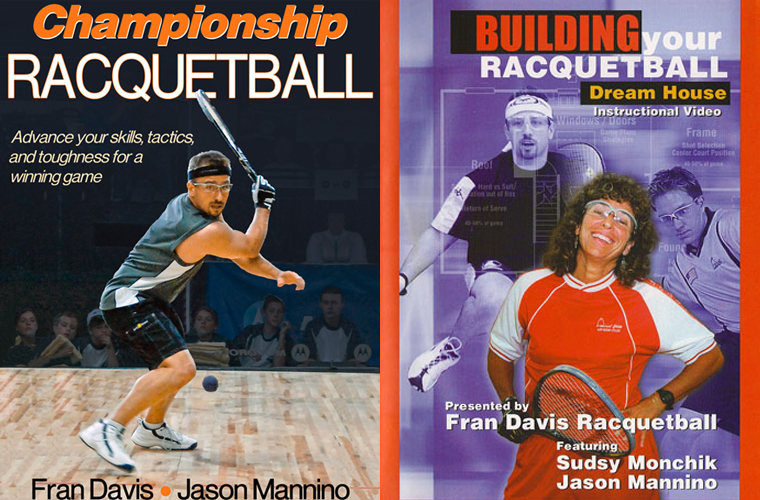 CHAMPIONSHIP RACQUETBALL BOOK
$19.95 (Sale price $16.99) Take your game to the next level with Championship Racquetball—the most comprehensive guide for mastering the skills, tactics, and strategies of today's game. Be sure to enter promo code FRAN15 at checkout to save!
Quick links: Order Now
BUILDING YOUR RACQUETBALL DREAM HOUSE DVD
$24.95
(Sale price $21.20)
This is our DVD for enhancing and improving visual training. Play smarter not harder! Presented by Fran Davis Racquetball and featuring Sudsy Monchik and Jason Mannino. Be sure to enter promo code
FRAN15
at checkout to save!
Quick links
:
Order Now