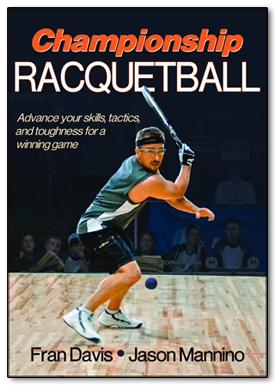 Take your game to the next level with Championship Racquetball—the most comprehensive guide for mastering the skills, tactics, and strategies of today's game.
Renowned coach and hall of famer Fran Davis teams up with racquetball legend and former #1 ranked pro player Jason Mannino to share their expertise and secrets on every aspect of the sport—from mastering the skills to recognizing weaknesses and establishing the strategies that will dominate your opponent during match play.
Championship Racquetball will show you how to master these aspects of the game:
Develop an attacking forehand and penetrating backhand

Dictate matches with dominating serves and returns.

Round out your arsenal with offensive and defensive specialty shots.

Adjust court positioning and refine shot selection.

Establish a winning game plan and match strategy for any opponent.

Increase strength, power, and endurance through racquetball specific training drills and exercises.

Win the mental game every time with the proven psychological and mental strategies used by top players.
With detailed instruction, the most effective skill development drills, and practice, training, and match preparation tips for singles and doubles, this is the essential guide for any serious player. If you want to play like a champion, turn to the champions—Davis, Mannino, and Championship Racquetball.
Contents
Part I-The Skills
Chapter 1: Attacking Forehand
Chapter 2: Penetrating Backhand
Chapter 3: Dominating Serves and Returns
Chapter 4: Winning Offensive and Defensive Shots
Part II-The Tactics
Chapter 5: Maximizing Court Position
Chapter 6: Improving Shot Selection
Chapter 7: Developing Game Plans and Match Strategy
Part III-The Competition
Chapter 8: Practicing Perfectly
Chapter 9: Maintaining Mental Toughness
Chapter 10: Conditioning and Flexibility
Chapter 11: Playing Doubles
About the Authors
Fran Davis' career has spanned 30 years as a competitor and coach. She instructs top professional and world champion junior players, including Paola Longoria, Rocky Carson, Taylor Knoth, Sharon Jackson and worked with legends Jason Mannino and Sudsy Monchik. She served as the U.S. national team coach for 8 years; during her time as a player, she won 4 national championships. Davis was selected by USA Racquetball as the Woman of the Year in 2009. In 2004, she was inducted into the Racquetball Hall of Fame for her excellence and dedication to the sport.
Jason Mannino has been playing professionally and coaching for over 15 years. He has been ranked as the No. 1 player in the world during 3 different seasons and ended 2003 as the International Racquetball Tour (IRT) #1 Player and Player of the Year. In 1998, he received the IRT Most Improved Player Award; in 1996, he was named IRT Rookie of the Year. Mannino served on the International Racquetball Board for over 5 years and was instrumental in developing the governance for the International Racquetball Tour. He also served as president of the IRT.