Building Your Racquetball Dream House…Instructional Video
---
What Does The Video Cover?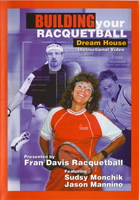 This is the "ultimate in racquetball video instruction!" We'll help you to "Build Your Racquetball Dream House" starting from the ground up! So, order your DVD or tape today and we will help you become a fundamentally sound player.
We'll start by pouring a strong foundation …
Foundation Section
Chapter 1 Forehand
Chapter 2 Backhand
Chapter 3 Shots of the Game – Offensive vs Defensive
Chapter 4 Drilling
Then we'll erect a powerful frame (including siding, of course) …
The Frame Section (worth 40-50% of game)
Chapter 5 Shot Selection
Chapter 6 Court Position
We'll put on a well-sealed weatherproof roof …
The Roof Section (worth 40-50% of game)
Chapter 7 Serves – Hard vs Soft / Relocation out of Box
Chapter 8 Return of Serve
Now, we're going to help you "accessorize" your Racquetball Dream House …
The Accessories Section
Chapter 9 Game Plans
Chapter 10 Strategies
AND, we'll even throw in a bunch of extras…
Extras
For What Level Player Is This Video?
Recommended for ALL levels of player
Questions?