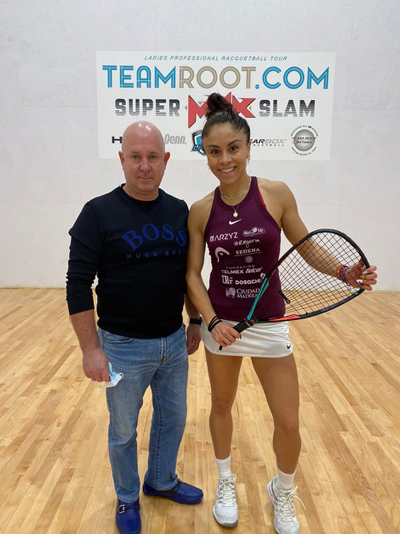 HEAD Penn's Paola Longoria Wins her 106th Tournament in Kansas
Overland Park, Kansas – December 15, 2020
Paola Longoria, the world's top ranked player, won the Women's Professional Singles title at the TeamRoot.com Super max Slam event in Kansas. Due to the global pandemic, the tournament was the first contested on the Ladies Professional Racquetball Tour (LPRT) since the Boston Open in March. The singles event was the 137th tournament Longoria (Monterrey, Mexico) has played in during her professional career. Of those tournaments, Paola has won 106 of them – a staggering tournament winning percentage of more than 77 percent! She hasn't lost a match on the LPRT in more than a year and had 33 tournament winning streak from 2011 to 2014. Paola also played in the Women's Doubles event with her long-time partner, Samantha Salas, and they finished runner-up in the doubles draw.
For Coach Fran Davis it was exciting to be back wearing her coaching hat again after a 9 month break because of the pandemic. Coach Fran spoke to Paola the moment she got to Kansas and then before and after each match discussing game plans, making adjustments and keeping her on her very strict tournament routine. Coach Fran Davis has been coaching Paola Longoria since December 2009, so this year will be starting their 12th year together.
To follow Paola, visit her Official Fan Page: https://www.facebook.com/PaolaLongoriaOficial/
and www.facebook.com/headpennracquetball
Watch Paola Longoria in the LPRT events at: https://www.youtube.com/ladiesprofessionalracquetballtour
and in international competition at: http://www.internationalracquetball.com
Check out my coaching tips on my website: www.FranDavisRacquetball.com
Follow Coach Fran Davis on all her social media channels:
Facebook: https://www.facebook.com/frandavisracquetball
Instagram: https://www.instagram.com/frandavisracquetball/
Twitter: https://twitter.com/frandavisrball