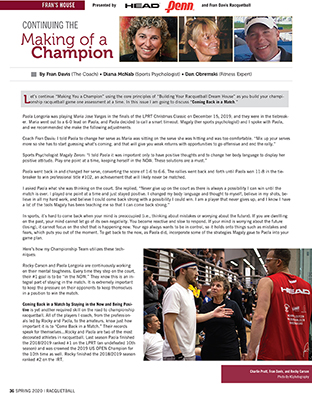 Have you read the 2020 Spring USA Racquetball Magazine? (click the link to view) Let's continue my proven philosophy of "Making You a Champion" using the core principles of "Building Your Racquetball Dream House" as you build your championship racquetball game one assessment at a time. In this issue I am going to discuss "Coming Back in a Match."
Paola Longoria was playing Maria Jose Vargas in the finals of the LPRT Christmas Classic on December 15, 2019, and they were in the tiebreak- er. Maria went out to a 6-0 lead on Paola, and Paola decided to call a smart timeout. Magaly (her sports psychologist) and I spoke with Paola, and we recommended she make the following adjustments:
Coach Fran Davis: I told Paola to change her serve as Maria was sitting on the serve she was hitting and was too comfortable. "Mix up your serves more so she has to start guessing what's coming, and that will give you weak returns with opportunities to go offensive and end the rally."
Sports Psychologist Magaly Zeron: "I told Paola it was important only to have positive thoughts and to change her body language to display her positive attitude. Play one point at a time, keeping herself in the NOW. These solutions are a must."
Paola went back in and changed her serve, converting the score of 1-6 to 6-6. The rallies went back and forth until Paola won 11-8 in the tie- breaker to win professional title #102, an achievement that will likely never be matched.
I asked Paola what she was thinking on the court. She replied, "Never give up on the court as there is always a possibility I can win until the match is over. I played one point at a time and just stayed positive. I changed my body language and thought to myself, believe in my shots, believe in all my hard work, and believe I could come back strong with a possibility I could win. I am a player that never gives up, and I know I have a lot of the tools Magaly has been teaching me so that I can come back strong."
In sports, it's hard to come back when your mind is preoccupied (i.e., thinking about mistakes or worrying about the future). If you are dwelling on the past, your mind cannot let go of its own negativity. You become reactive and slow to respond. If your mind is worrying about the future (losing), it cannot focus on the shot that is happening now. Your ego always wants to be in control, so it holds onto things such as mistakes and fears, which puts you out of the moment. To get back to the now, as Paola did, incorporate some of the strategies Magaly gave to Paola into your game plan.
---
Here's how my Championship Team utilizes these techniques:
Rocky Carson and Paola Longoria are continuously working on their mental toughness. Every time they step on the court, their #1 goal is to be "in the NOW." They know this is an integral part of staying in the match. It is extremely important to keep the pressure on their opponents to keep themselves in a position to win the match.
Coming Back in a Match by Staying in the Now and Being Positive is yet another required skill on the road to championship racquetball. All of the players I coach, from the professionals led by Rocky and Paola, to the amateurs, know just how important it is to "Come Back in a Match." Their records speak for themselves…Rocky and Paola are two of the most decorated athletes in racquetball. Last season Paola finished the 2018/2019 ranked #1 on the LPRT (an undefeated 10th season) and was crowned the 2019 US OPEN Champion for the 10th time as well. Rocky finished the 2018/2019 season ranked #2 on the IRT.
(original article posted in the 2020 Spring Edition USA Racquetball Magazine)
Check out my coaching tips on my website, www.FranDavisRacquetball.com