Paola Longoria with Coach Fran Davis and her Team, Magaly Zeron (sports psychologist), Efrain Lara (conditioning trainer), Armando Baustista (masseuse) and her brother, Christian Longoria (sparring partner) all got together in Monterrey, MX to prepare for The Mexican National Championships, January 31-February 5.
At the camp we covered ALL SIDES of the "Racquetball Success Triangle" leaving nothing to chance.….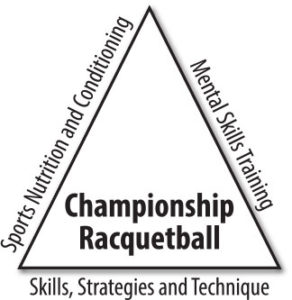 Through watching videos of Paola playing throughout the year we all came to the camp with things in our respective areas we wanted to adjust, tweak and address to sharpen Paola's game. That is the very reason why Paola has dominated the sport since Paola, I and the rest of the team came together in 2009/2010.
Paola is always, looking to improve her game in EVERY AREA. No matter how many wins, accolades, interviews, speeches or awards she receives she is HUNGRY to IMPROVE. Paola is never satisfied and works the hardest as she practices on the court 3+ hours, plays 1 ½-2 hours and trains in the gym with weights/footwork/functional training 2 hours on particular days of the week in each area based on her tournament and travel schedule. This is the sign of a TRUE CHAMPION.
I have always told my athletes Rocky Carson, Jason Mannino, Sudsy Monchik, my Junior Champions (Jordan Cooperrider, Wayne Antone & Mitchell Turner), as well as Paola…" it's easier to get to #1, but tougher to stay there as everyone is gunning for you." They all knew it including Paola knows it and lives it now day in and day out.
The Mexican National Championships to decide an appointment to the Mexican National Team to represent the country at the Pan American Championships in Chile, The Central American Games and the World Championships in China will be held in Chihuahua, MX February 22-25, 2018.
Here are a couple of pictures to depict our hard work at the training camp:​
To follow Paola, visit her Official Fan Page, www.facebook.com/PaolaLongoriaOficial/, and www.facebook.com/headpennracquetball
Watch Paola Longoria in the LPRT events on www.lprtour.com/live, as well as in international competition on www.internationalracquetball.com
Check out my coaching tips on my website, www.FranDavisRacquetball.com