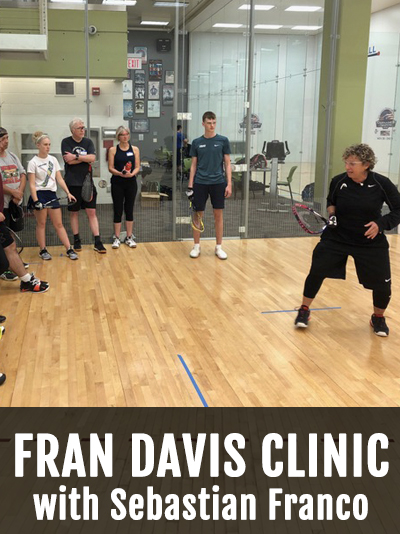 Fran Davis and Sebastian Franco One Evening Clinic
Severna Park Racquetball and Fitness Club – Millersville, MD

Attention Racquetball Enthusiasts!
Wednesday – December 7, 2022 from 7:00 pm to 9:00 pm there will be a One Evening Clinic at the Severna Park Racquetball and Fitness Club in Millersville, MD taught by Fran Davis and Sebastian Franco. (IRT Pro # 15, Colombian National Team, World Champion, Pan American Silver Medalist)
Session Includes
Lecture on topics such as Court Position, Shot Selection

Serve and or Serve Return for Singles and some Doubles

Playing/Critiquing on the Court as well

Giveaways and Wrap Up

You do NOT want to miss this GREAT Opportunity to work with Fran Davis, the #1 coach/instructor in the world. She presently coaches Rocky Carson, #7 IRT Pro Player/1x US Open Champion/5x World Champion, and Paola Longoria, #1 LPRT Pro Player/12x US Open Champion/6x World Champion.

Fran is also available for private lessons on Thursday morning December 8, 2022 so email Fran directly for pricing and availability Fran@FranDavisRacquetball.com
Click the link below for a printable PDF flyer.