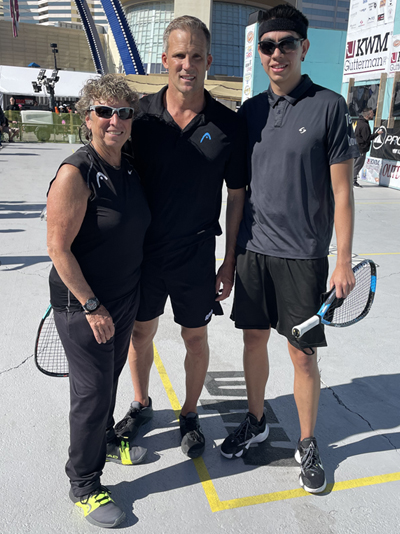 Rocky Carson and Lalo Portillo defeated Adam Manilla and Nicholas Riffel at the 3WallBall World Championships to capture their first outdoor Men's Professional Doubles title.
Las Vegas, Nevada – November 18, 2022 – The 3WallBall World Championship Final at the largest outdoor racquetball tournament of the year ended with Rocky Carson (Ladera Ranch, California) and his partner Lalo Portillo (San Luis Potosi, Mexico) defeating Adam Manilla (Centennial, Colorado) and Nicholas Riffel (Arvada, Colorado) 15-8, 15-3, in the finals of the 2022 3WallBall World Championships at the Strat in Las Vegas.
The title became the first 3WallBall professional doubles win for Carson and Portillo as a team. Carson also placed in two other divisions and took home bronze in Men's Centurion Open Doubles with his partner Jerry Hall and added another bronze medal in the Men's CPRT 40+ Doubles with his partner Jesus Ustarroz.
Jerry Hall (El Dorado Hills, CA) and his partner Ambrose Fish won gold in the Men's 60+ Doubles along with the gold Hall won with Carson in the Men's Centurion Open division.
Ethan Janson (Seattle, WA) won gold in the Men's 50+ Singles division defeating Charles George, 15-10, 15-6.
Erika Manilla (Centennial, Colorado) played in three divisions and medaled in all of them. Manilla captured bronze in the Women's Pro Doubles with Aimee Roehler, bronze in the Mixed Pro Doubles with her brother Adam, and bronze in the Women's Pro One Wall Doubles with Katie Neils. Erika will next play at the LPRT event in Chicago, Illinois this week.
Adam Manilla and Nicholas Riffel also won gold in the inaugural Squash 57 Doubles Upper division, defeating Brian Pineda and Robert Sostre, 11-5, 11-4, 11-4 in the finals.
Montserrat Torres (Bellwood, IL) and her partner Kayden Rodgers won gold in the Women's B Doubles division. Torres would also finish with a bronze medal in the Women's B Singles.
To follow Rocky and the rest of the HEAD Penn professional players, visit: http://www.facebook.com/headpennracquetball
ABOUT HEAD
HEAD UK Ltd. is a leading global manufacturer and marketer of premium sports equipment and apparel. Our business is organized into five divisions: Winter Sports, Racquet Sports, Diving, Sportswear and Licensing. We sell products under the HEAD (alpine skis, ski bindings, ski boots, snowboard and protection products, tennis, racquetball, paddle, squash and pickleball racquets/paddles, tennis balls and tennis footwear, sportswear and swimming products), Penn (tennis balls and racquetballs), Tyrolia (ski bindings) and Mares, SSI and rEvo (diving) brands. The Company´s key products have attained leading market positions based on sales and reputation and have gained high visibility through their use by many of today´s top athletes.