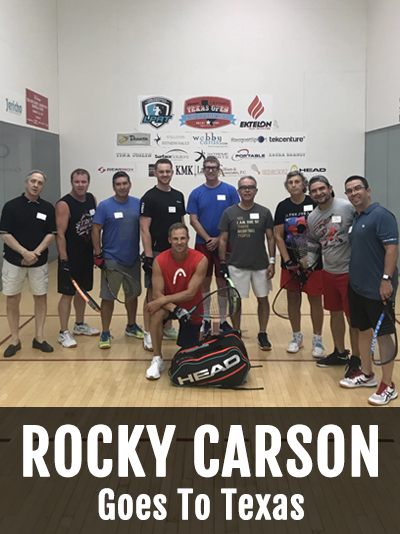 Rocky Carson made his way across Texas and conducted some One Evening Clinics in San Antonio at the Thousand Oaks YMCA (sponsored by ACRA) and at the Landmark Fitness Club and Dallas. Here are some pictures and details about the clinics. If you would like Rocky to come to your club please send us a message and we can schedule a date and time in the near future.
Session is $99 and includes:
Lecture on topics such as court position, shot selection, serve and or serve return for singles and doubles. Playing and critiquing on the court as well. Giveaways and wrap up.
You do NOT want to miss this GREAT Opportunity to work and get on the court with Rocky Carson, the #3 IRT Pro Player in the world, up close and in-person. Rocky will teach you the why and how to use "Championship Racquetball" to develop your game, as it keeps Rocky fresh, sharp and on the top of his Outdoor and Indoor racquetball game.
Rocky is also available for private lessons: $150.00 per hour or $200.00 for 1 1/2 hours. Contact Coach Fran Davis at Camps@FranDavisRacquetball.com
About Rocky Carson
For the past 30+ years, Rocky Carson has been intimately involved in racquetball in every arena…Indoor, Outdoor, International, and Professional Racquetball.
Rocky has been on the USA Adult Team for 20+ years after winning 7 National Singles Championships and 10 National Doubles Championships.
Rocky has represented the USA at International competitions winning the World Championships 5 times and the Pan American Games 2 times.
Rocky as a Professional has been the #1 Pro Player for two seasons, US Open Champion, won 15 Pro-Tournaments, finished #2 for 8 seasons, and has won 305-96 on the courts making his winning percentage .760 winning pct.
Rocky has won Outdoor events as well having 12 World Outdoor Singles Championships and 4 World Outdoor Doubles Championships.
Rocky's Philosophy
Rocky not only loves playing the game, but is involved in several programs sharing his passion for the sport.