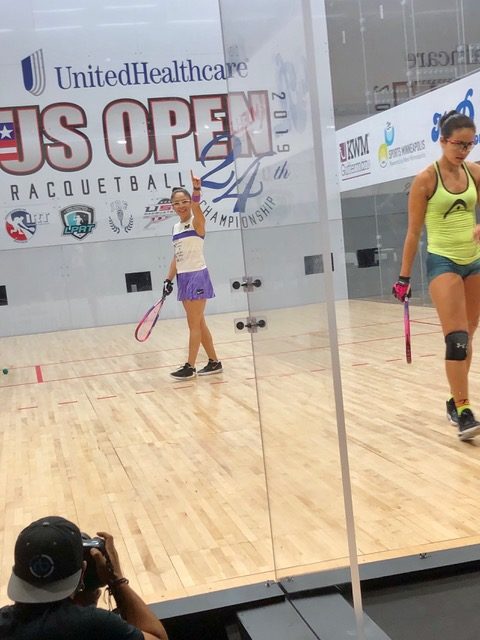 Minneapolis, Minnesota – October 6, 2019 -. Paola Longoria (San Luis Potosi, Mexico) – the undisputed No. 1 ranked player in the world – defeated Maria Jose Vargas (Buenos Aires, Argentina) 15-5, 15-7 to win the most prestigious racquetball tournament in the world, the 2019 United Healthcare US OPEN Racquetball Championships and was crowned Women's Professional Singles Champion.
The title became the tenth US OPEN win for Longoria and her ninth in a row. The Grand Slam victory also became Paola's 100th tournament win on Ladies Professional Racquetball Tour (LPRT). Longoria's first professional tournament win came in September 2007 in Fayetteville, North Carolina and she has since amassed 99 more Grand Slam, Tier One, and Satellite Event professional wins.
In the Women's Professional Doubles division at the United Healthcare US OPEN, Paola and her partner reached the Championship Final.
I cannot tell you how great it felt for me as her Coach to not only be in Minneapolis coaching her court side as she accomplished these 2 tremendous feats, but also to be by her side coaching her for 10 years since 2009. Paola's diligent preparation, our game planning for each match, making adjustments during the matches and her work with the rest of the team Magaly Zeron, sports psychologist, Nelson Valdes Sazigain, trainer, Edson Martinez, sparring partner, Armando Baustista, masseuse, Victo Bolio, docter, and her therapists all helped Paola make history.
Paola will next play at the LPRT event in Chicago, Illinois in late November.
Mexico City, Mexico – October 18, 2019 –Paola Longoria had a media campaign all week sharing her story achieving her 10th US Open Title and her #100th professional tour victory with ESPN, ESPN-W, El Universal Deportes, W-Radio Live, Deportes en Claro, and more. Paola was named one of the Top 5 Mexican Athletes and will be going to the Olympics in Tokyo as a broadcaster and run with the torch for Mexico.
To follow Paola, visit her Official Fan Page, https://www.facebook.com/PaolaLongoriaOficial/ , and www.facebook.com/headpennracquetball
Watch Paola Longoria in the LPRT events on https://www.youtube.com/ladiesprofessionalracquetballtour and in international competition on http://www.internationalracquetball.com
Check out my coaching tips on my website, www.FranDavisRacquetball.com