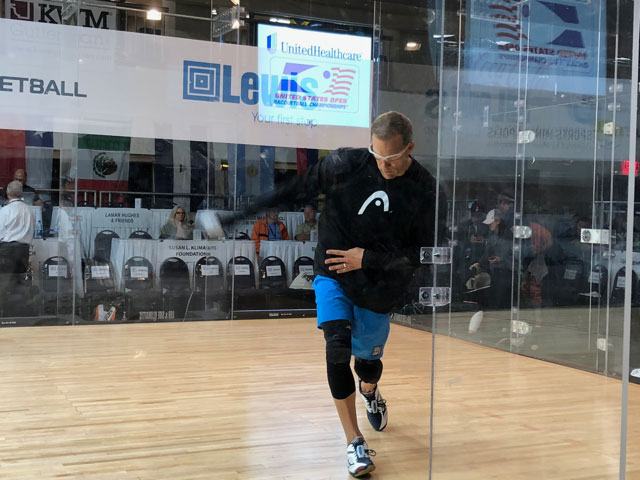 Began at the Pan Am Games in Lima, Peru with 2 Bronze Medals this Summer
Continued with an IRT Victory at the 1st Pro-stop in Atlanta, GA and a Finalist at the 2nd Pro-stop in Laurel, MD
Lima, Peru – August 16, 2019
The 2019 Pan American Games featured more than 6,100 athletes, making it the largest international sporting event competition within racquetball. This was Rocky's 3rd Pan Am Games after representing the USA in 2011 in Guadalajara, MX and 2015 in Toronto, Canada and now in 2019 in Lima, Peru. He won a Gold & a Silver Medal in each of the subsequent years and this year he won 2 Bronze Medals with his doubles partner, Charlie Pratt. Those stats of medaling in each of the Pan Am games is pretty impressive being the games are held every 4 years. Way to go Rocky.
The next edition of the Pan American Games will take place in 2023 in Santiago, Chile.
Atlanta, GA– September 9, 2019
Rocky Carson (Ladera Ranch, CA) won the the first event of the International Racquetball Tour's (IRT) Men's Professional Singles Division at the 2019 Atlanta Open. It was a tough road for Rocky beating Samuel Murray in the semi-finals and Andree Parrilla in the finals using his experience, smart game planning and phenomenal fitness to propel him to the winner's circle.
The win for Rocky became his 27th tournament victory on the IRT and first since the Maryland event nearly a year ago. Carson is now just two tournament wins shy of tying former HEAD Penn player Jack Huczek for fifth on the all-time IRT wins list.
Laurel, MD– September 23, 2019
Rocky Carson returned back to the finals of the second event of the International Racquetball Tour's (IRT) Men's Professional Singles Division at the Valentine Open. Rocky did not have an easy go of it, but fought his way to the finals after winning a tie-breaker against Thomas Carter in the round of 16, winning a tie-breaker against Alvaro Beltran in the ¼ finals and beat Samuel Murray in 2 games in the semi-finals. Rocky fell short in a tie-breaker against Kane Wasselenchek in the finals, but showed great resilience after losing the first game -1-15, winning the 2nd game 15-12, but in the breaker lost 5-11. A great match by both guys, so check it out on the IRT FB page or U-Tube Channel. These are the type of matches Coach Fran Davis loves to coach as they are close and the adjustments she helps Rocky make, makes a difference.
Rocky Carson will next play at the 2019 UnitedHealthcare US OPEN Racquetball Championships October 2-6 in Minneapolis, Minnesota. The US OPEN is racquetball's premier event of the season and boasts the largest prize purse in the sport. Rocky won the US OPEN in 2007 and has been a runner-up on seven occasions.
Come see Rocky play and Coach Fran Davis coach in Minneapolis or check Rocky out on the International Racquetball Tour Facebook Page or their YouTube Channel.
To follow Rocky Carson, Coach Fran Davis and the rest of the HEAD Penn professional players, visit: www.facebook.com/headpennracquetball
Check out Fran Davis's coaching tips on her website, www.FranDavisRacquetball.com
Also, watch Rocky Carson at international competitions on http://www.internationalracquetball.com