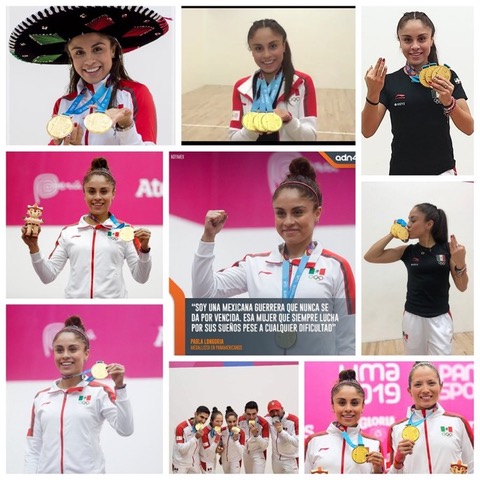 HEAD Penn's Paola Longoria wins 3 Gold Medals at the Pan Am Games in Lima, Peru – August 16, 2019
The 2019 Pan American Games featured more than 6,100 athletes, making it the largest international sporting event competition within racquetball.
At this year's Pan Am Games racquetball event in Peru, Mexico's Paola Longoria lead the way and swept the Women's Singles, Women's Doubles, and Women's Team competitions to earn three gold medals in Lima.
It wasn't an easy road as Paola and Fran Davis, Paola's Coach, had to make adjustments during the Women's Doubles Finals against Guatemala and come back from a 1-5 deficit in the tie-breaker to win it 11-5.
In the Women's Team finals against Argentina Paola once again was down 5-11 in the second game, after the winning the first game, and took a time out to regroup and adjust and went back in and rattled off 10 points to win the game and match.
For her Pan American Games career, Longoria has now won a staggering NINE gold medals, making her the most decorated Pan Am Games athlete from Mexico in history. The coolest part is Fran Davis, her coach, has been by her side for all NINE gold medals in 2011 Guadalajara, 2015 Toronto and now 2019 Lima. We are a GREAT team.
PAOLA LONGORIA KICKS-OFF NEW SEASON IN GRAND FASHION San Luis Potosi, Mexico – August 27th, 2019
Paola Longoria's quest for a sixth perfect season event on the Ladies Professional Racquetball Tour (LPRT), started in her hometown at her name sake tournament, "The Paola Longoria Experience". Paola cruised to the title in the Women's Professional Singles Division without dropping a single game. Paola has never lost a professional singles match in San Luis Potosi, her hometown, and now holds an overall record of 24 wins and 0 losses.
Paola also reached the finals of the Women's Professional Doubles Division with her playing partner, Samantha Salas.
To follow Paola, visit her Official Fan Page, https://www.facebook.com/PaolaLongoriaOficial/ , and www.facebook.com/headpennracquetball
Watch Paola Longoria in the LPRT events on https://www.lprtour.com/live, as well as in international competition on http://www.internationalracquetball.com
Check out my coaching tips on my website, www.FranDavisRacquetball.com