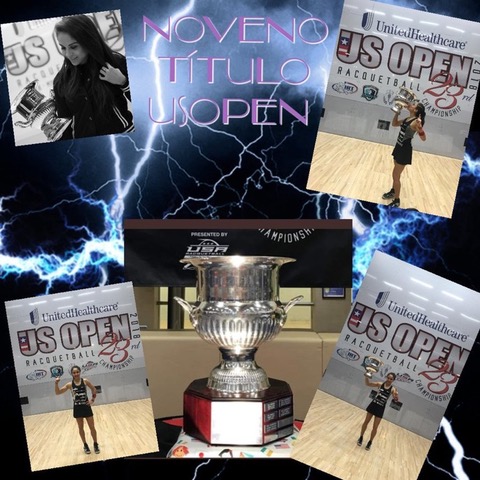 Lima, Peru – August 16, 2019
At this year's Pan Am Games racquetball event in Lima, Peru, Mexico's Paola Longoria lead the way and swept the Women's Singles, Women's Doubles, and Women's Team competitions to earn three gold medals in Lima.
These three gold medals were added to her six gold medals she won previously, 3 earned in 2011 in Guadalajara, MX and 3 earned in 2015 Toronto, Canada
For her Pan American Games career, Longoria has now won a staggering NINE gold medals, making her the most decorated Pan Am Games athlete from Mexico in the history of the games.
San Luis Potosi, Mexico – August 27th, 2019
Paola Longoria's first tournament of the season was in her hometown at her name sake tournament, "The Paola Longoria Experience". Paola cruised to the title in the Women's Professional Singles Division without dropping a single game adding her 99th professional tour victory.
Paola also reached and won the finals of the Women's Professional Doubles Division with her playing partner, Samantha Salas.
Virginia Beach, VA – September 9th, 2019
Paola Longoria headed to Virginia for the second tournament of the season. Paola made it through to the finals after beating Brenda Laime in the ¼ finals and Rhonda Rajsich in the semi-finals. Paola met up against Maria Jose Vargas in the finals and what an epic battle they had, but Paola fell just short in the tie-breaker. The true champion that Paola is she went right back on the court immediately after the singles match to play in the Women's Doubles finals with Samantha Salas, in which they beat Maria Jose Vargas and Natalia Mendez in 2 games.
Paola Longoria will next play at the 2019 UnitedHealthcare US OPEN Racquetball Championships October 2-6 in Minneapolis, Minnesota. The US OPEN is racquetball's premier event of the season and boasts the largest prize purse in the sport. Paola won the US OPEN 9X.
Come see Paola play and Coach Fran Davis coach in Minneapolis or check Paola out on https://www.lprtour.com/live
To follow Paola, visit her Official Fan Page, https://www.facebook.com/PaolaLongoriaOficial/ , and www.facebook.com/headpennracquetball
Watch Paola Longoria in the LPRT events on https://www.lprtour.com/live, as well as in international competition on http://www.internationalracquetball.com
Check out Coach Fran Davis coaching tips on her website, www.FranDavisRacquetball.com